Women and War: A Contemporary Art Perspective
July 29 – September 24, 2023
GLENDALE, CA – Glendale Library, Arts & Culture is honored to mark the 10th anniversary of the Korean Peace Monument in Glendale with the opening of "Women and War: A Contemporary Art Perspective" at ReflectSpace Gallery at Glendale Central Library. Reflecting on a decade of activism, this exhibition brings together the work of three Korean artists who address the past, present and future of the 'comfort woman' issue.
Artist Kim Chang Kyum addresses the past and creates a context to consider women and war in history through a media art installation. His work embodies the image of a woman reflected in swaying waves, symbolizing the lives of women victimized during the Japanese Colonial Period. The undulating waves metaphorically represent the turmoil they endured. Kim Chang Kyum has dedicated his artistic journey to expressing human rights and telling the stories of the 'comfort women'.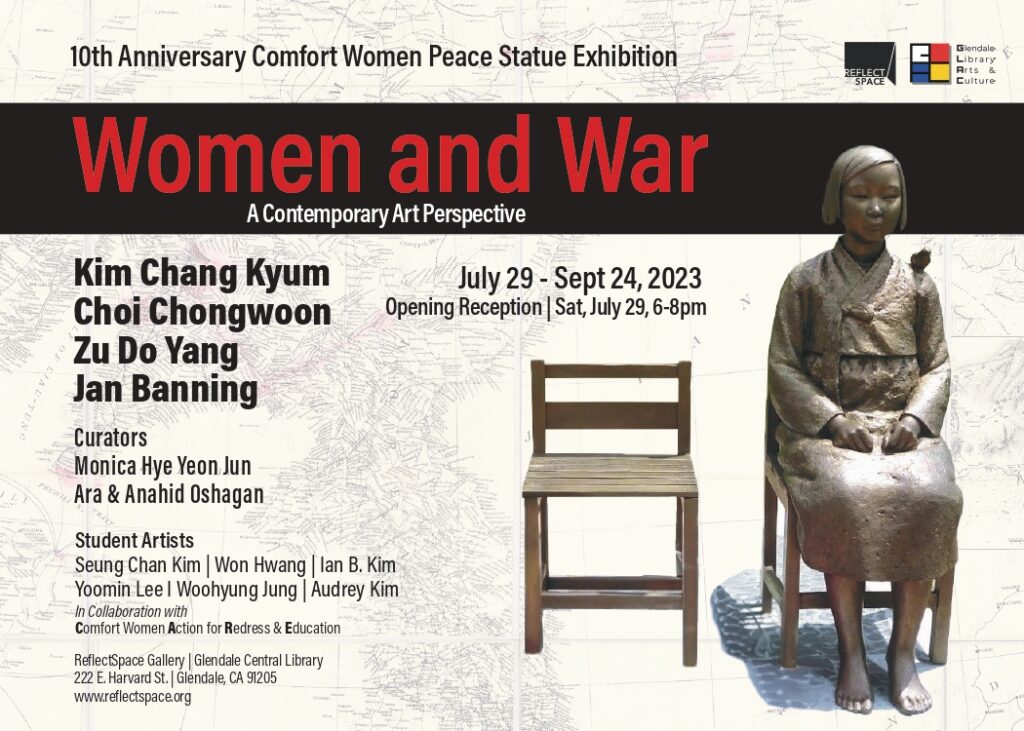 Choi Chongwoon, entrusted with portraying the present, employs real objects to create his artwork. He incorporates water from near the DMZ (demilitarized zone) as well as soil from the graves of 'comfort women'. Using these materials, he crafts a chair that pays homage to the existing Statue of Peace and employs augmented reality to reimagine it. The interactive media art responds to the audience's proximity. Through this artwork, Choi Chongwoon asserts that historical denial cannot silence us, and history and memory cannot be erased.
Zu Do Yang, an artist known for his collage photographic works on themes such as human despair and metempsychosis (the transmigration of souls), offers insights into the future. Through various portraits, he presents the faces of everyday people from all walks of life. Each work is completed by hand using a classical method from 300 years ago. Like Buddhism's samsara (the indefinitely repeated cycles of birth, misery, and death), the photographs create impressions that cycle through each other's impressions. This exhibition poses crucial questions about the progress we have made on gender issues. "Have we truly overcome them?" asks Zu Do Yang.
Dutch photographer and artist Jan Banning's portraits of Indonesian 'Comfort Women' will be in display in the PassageWay Gallery. Banning was born in the Netherlands from Dutch-East-Indies parents and has been working as a photographer since 1981. A central theme of his practice is state power and its abuse. He has produced several series about the long-term consequences of war and the world of government bureaucracy.
Concurrently, in PassageWay Gallery, work by several Korean-American student artists will be on display. Organized by Phyllis Kim of C.A.R.E. (Comfort Women Action for Redress & Education) these works by artists Seung Chan, Won Hwang, Ian B. Kim, Yoomin Lee, Woohyung Jung and Audrey Kim, expand on the various themes of 'comfort women' and their histories.
"Women and War: A Contemporary Art Perspective" will host an opening reception from 6 pm – 8pm on Saturday, July 29, the exhibit runs through September 24, 2023. It is curated by Monica Hye Yeon Jun who has been collaborating with Library, Arts & Culture staff for a decade. ReflectSpace is co-curated by Ara and Anahid Oshagan.
The Korean Peace Monument located at the North entrance of the Adult Recreation Center in Glendale, was challenged by the Japanese government all the way to the Supreme Court.  A commemoration ceremony will be held at the monument on July 29 at 4:00pm.
Glendale Library, Arts & Culture Trust
222 E. Harvard Street Glendale, CA 91205
Info@glact.org
(818) 937-7893
©2020-2021 All rights reserved by GLACT. GLACT is a 501(c)(3) organization and all contributions are tax-deductible under the law of your state. Glendale Library, Arts & Culture Trust EIN 95-4327193.